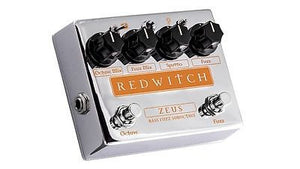 Red Witch Zeus Analog Bass Fuzz Suboctave
Red Witch Zeus Analog Bass Fuzz Suboctave
Featuring two pedals in one, the Zeus offers a silicon fuzz (with key features of the much loved Fuzz God II) as well as a beautiful analog suboctave.
Use either effect independently or together. Each has its own true bypass stomp switch. Dial in as little or as much of each effect in with the mix controls.
The Red Witch Zeus is capable of generating anything from a distant rumble to an all out subterranean cataclysm. The Fuzz section works beautifully with or without the analog suboctave which, being analog, has a fantastic, tactile springyness with extremely good tracking.
Red Witchs new range of bass pedals are specifically designed for bass players, so no low end roll off required here. Plus you can blend the effected sound with your unadulterated dry sound.
Features:
Independent Analog Fuzz for bass
Independent 100% analog suboctave for bass
Independent wet/dry mix for each
Internal Fuzz master volume trimmer
Internal Octave master volume trimmer
Ultra Unique design nothing like this on the market
Full frequency response
True Bypass Switching
Gorgeous Chrome Enclosure